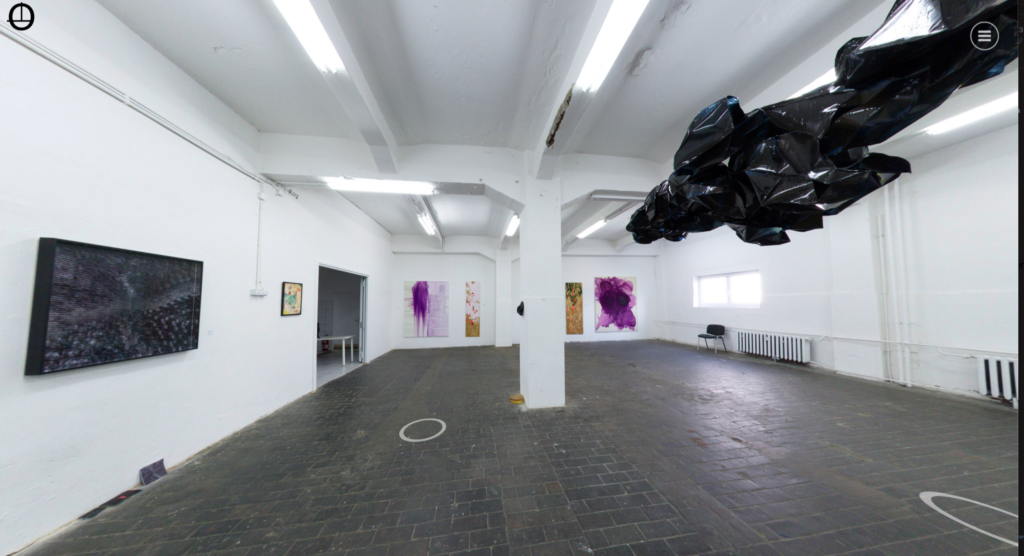 Group Exhibition of artists at HB55 for the Lange Nacht der Bilder, Lichtenberg, Berlin (2.9.2022).
ARTISTS: Leon Emanuel Blanck, Marie Birkedal, Elisabeth Jahrmärker, Ian Jehle, Karmen Kraft, Marc Räder, Xinjan Zhang, Tim van den Oudenhoven, ZCKR Studio
Curated and organised by: Tim van den Oudenhoven
Virtual exhibition provided by: ExtractArt
Leon Emanuel Blanck's sculptural process involves the sewing and moulding together of X-ray photographs into voluminous configurations that can be seen as reinterpretations of organic forms or the creation of new ones. The new shapes are either suspended from the ceiling or presented in a resin frame that freezes this new organism in time, almost as if the entire sculpture is the threedimensional X-ray of this new creature.
Marie Birkedal's work focuses on materiality, entropic processes, and painterly abstraction, she thins her paints to the point where the binder breaks and only the pigment remains, which makes the paint so liquid it gives the painting a degree of autonomy. The paint develops through evaporation leaving dust-like traces, making the paintings seem evoked rather than made. The luminous washes radiate an ephemeral presence and the paintings appear to be breathing.
Elisabeth Jahrmärker's works offer a simultaneity of consolidation and decomposition. With a meticulous attention to detail, she exposes the spaces she finds between contrasts. She transposes forceful forms and raw structures onto canvas, dismantling them with a touch so delicate, so light that it almost flows.
Ian Jehle is a Canadian artist and writer based in Berlin and Washington D.C. His work focuses on the relationship between art, philosophy, and mathematics, as well as different modes of making. He has served as a lecturer at American University and held residencies at the Banff Arts Centre and ZK/U in Berlin.
Karmen Kraft's work is poetic and provocative. She captures moments of intimate stillness in the restless chaos of events her gaze seems to escape conventional situations, finding the beautiful introspection.
Kraft's images are memories of ephemeral feelings translated into a visual language: dramatic, poetic, delicate words on paper, wood or canvas. She patiently waits, like a thinker who silently watches the flow of thoughts in searching of an idea, until something like an epiphany breaks through the situation revealing the shade of an hidden emotion. The soul of the subject is now vulnerable to her pencil, which glimpses into this private dimension catching its secrets.
Her images immortalize small details which otherwise would have been unnoticed.
Marc Räder's experiments with the extraction of uncanny perceptions of reality while his subject matter draws from the open space, the interconnections between geography, architecture and human activity, which adds a contemporary dimension that can be understood as a visual critique of all of the above, resonating in his photographic techniques and above all sociopolitical commentary.
Xinyan Zhang is an international artist in Berlin. She has exhibited in solo shows at Baustelle Schaustelle e.V (Düsseldorf), Frauen Museum Bonn (Bonn).
Her numerous group exhibitions include Beijing Weekend Gallery (Beijing), Fangyuan Art Gallery (Beijing), Sparkasse Gera (DE); Galerie Bodenseekreis (Meersburg); International Art Foundation of Moscow (Russia). Xinyan's work was nominated for the Eb-Dietzsch-Kunstpreis 2022, the Förderpreis Jung Gegenständlich "Mach Dein Ding"2022 , the Bottrop Art Award 2022, as well as the V.Rothe and R.Hendricks-Preis 2022.
Tim van den Oudenhoven's work focuses on how the medium of photography can be pushed by various means, employing both analogue as well as digital techniques to come to an original image, which may or may not be recognisable. Both in his landscape works and works that focus on the human form, the feeling of uncanniness (the familiar unfamiliar) is pervasive throughout.